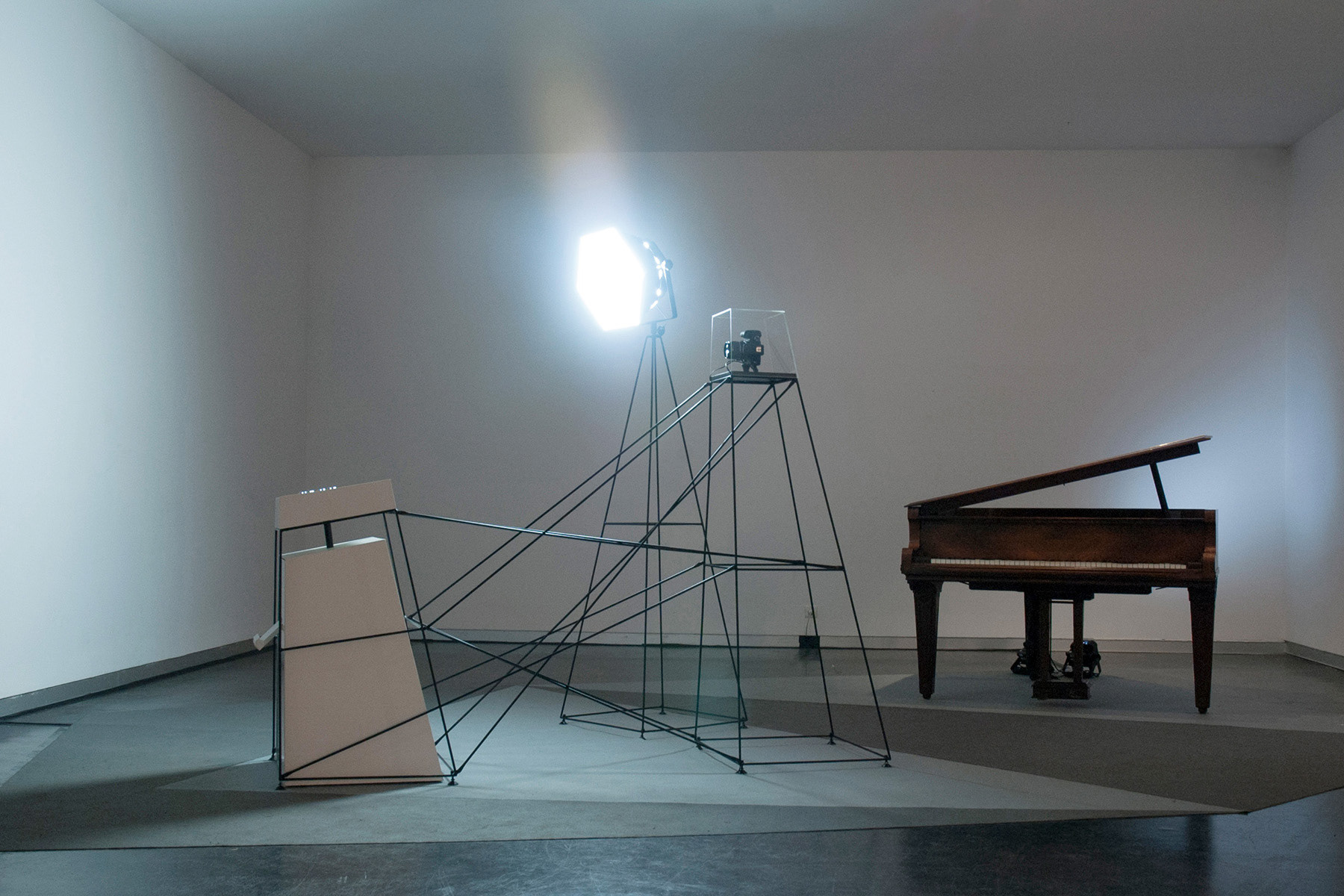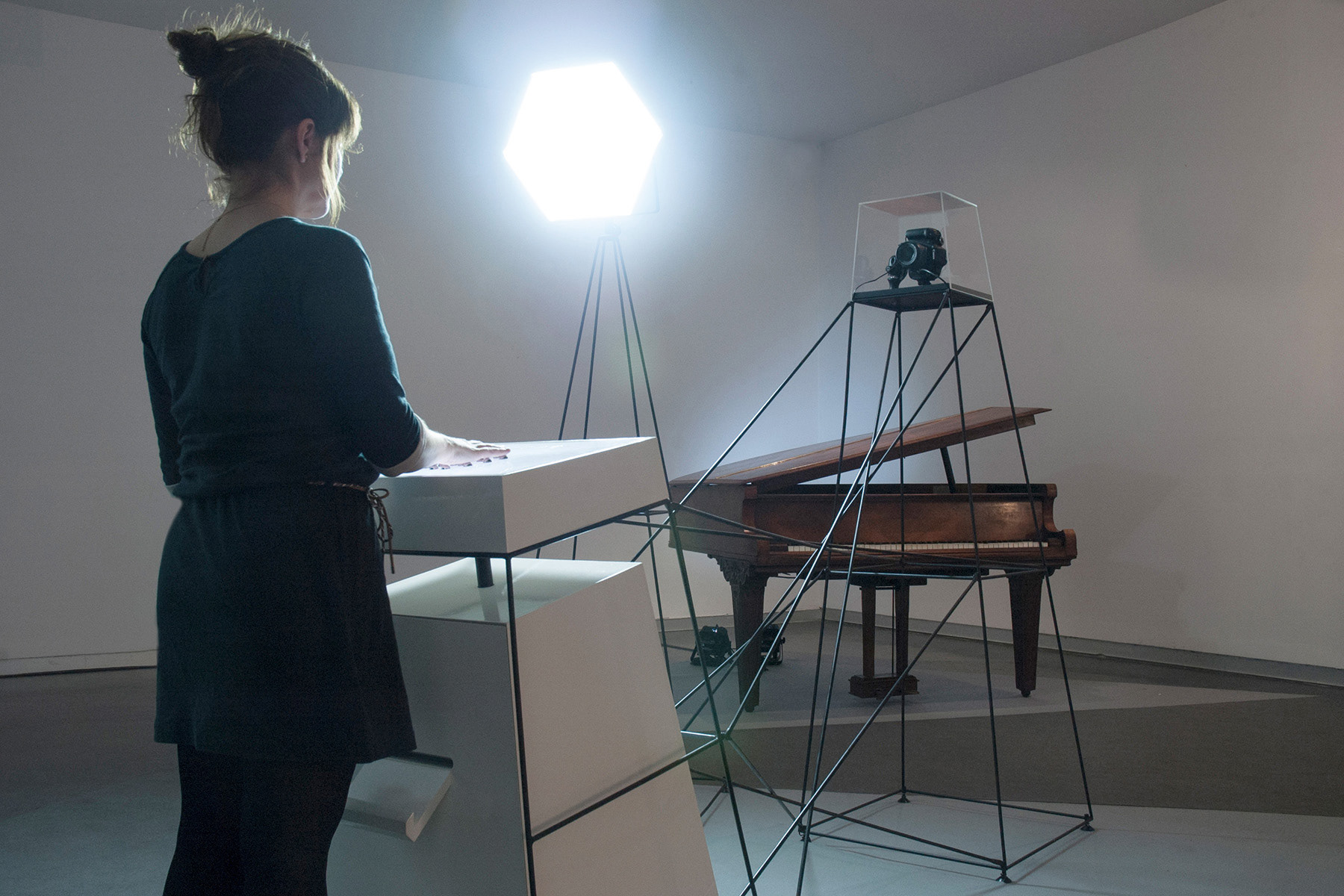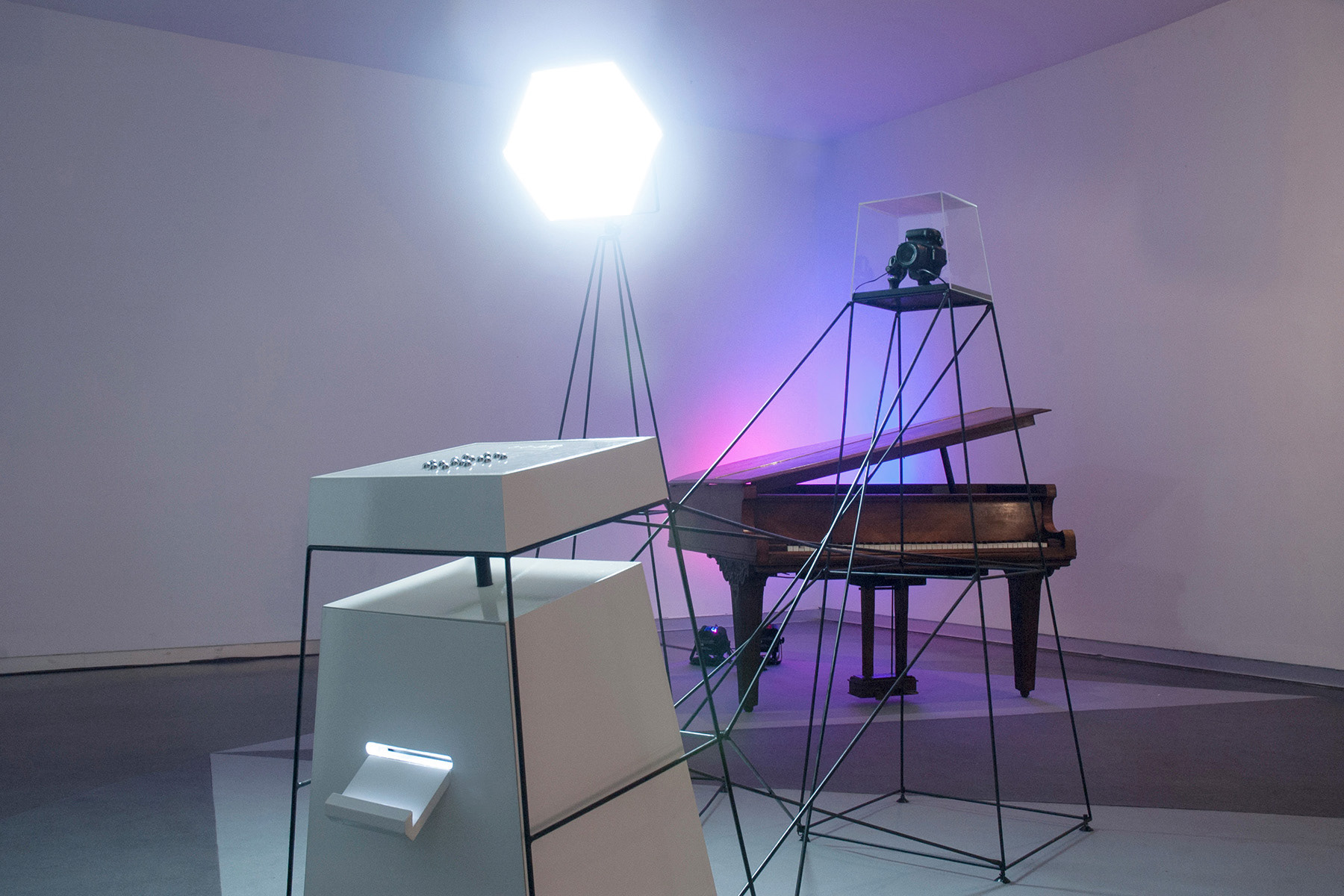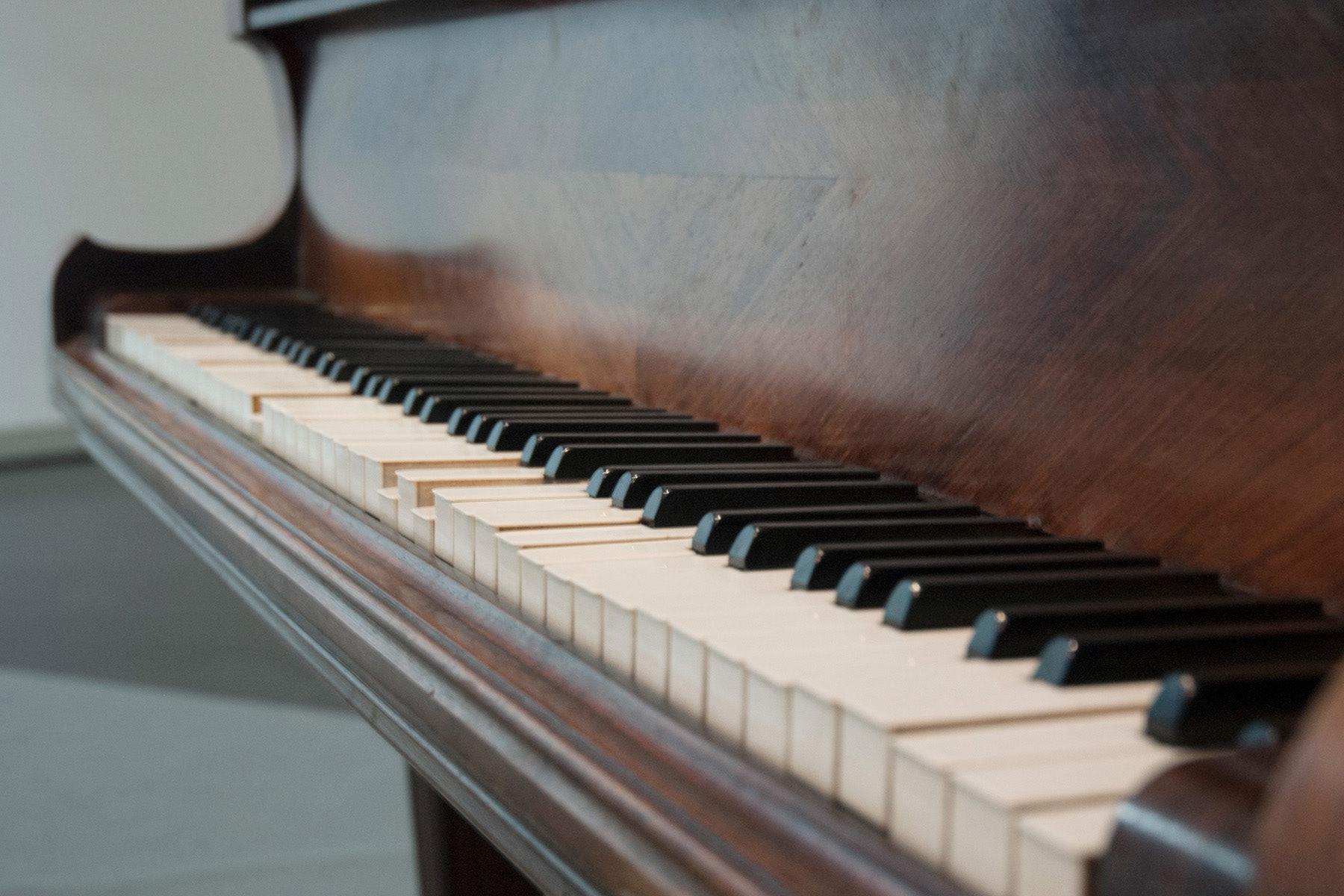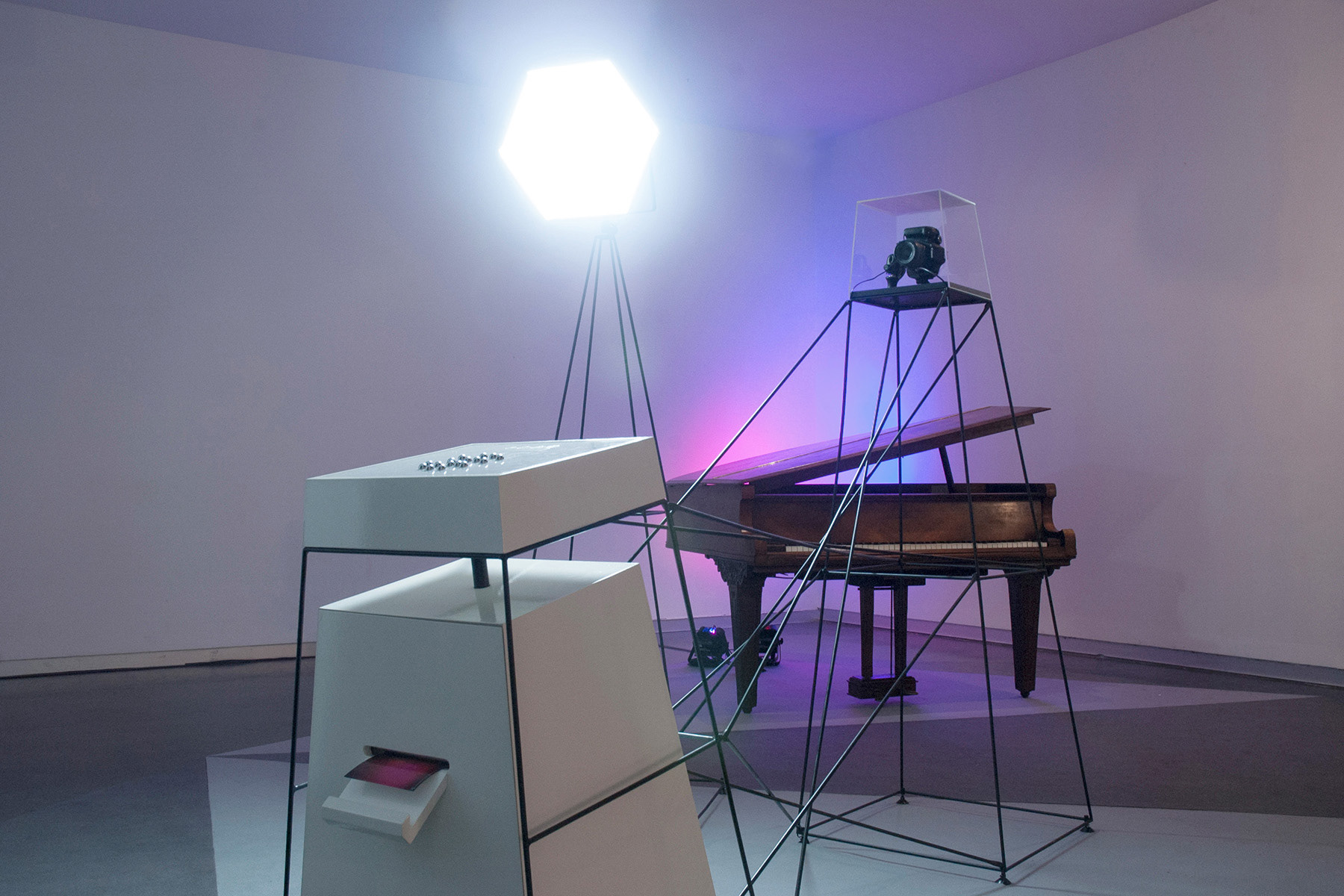 Interactive installation for aura and player piano
Variable dimensions (approximately 6.5 X 4 m)
In a sleek device, a mechanical piano plays the most intimate score: the spectators' one. Conductance, skin temperature, hand weight, heartbeat... As We Are Blind interprets these physiological data in real time to transform them into a unique musical and photographic production.
 
The viewer places his/her hand on a sensor measuring his/her electrodermal activity to draw up an emotional map. The values collected, specific to everyone, are first converted into an image revealing the electromagnetic field of the body. All physiological data are also analyzed by a computer program which can transcode them into a musical score following predefined rules of composition. The music thus generated is transmitted in real time to the mechanical piano. The spectator then hears the notes and sees the keys of the keyboard being pressed, as if a ghost pianist was playing the melody corresponding to his/her state of mind.
As We Are Blind aims to establish an intimate relationship between individual and technology, making people aware of the peculiarities of their presence in the artwork. Here, it's not the music that generates emotions: it's the emotional state of the spectator that creates the musical corpus.
Computer development and technical support: Guillaume Libersat
Musical composition: Quentin Denimal
Research in Computer Music: Algomus (P. Allegraud, M. Caron, M. Giraud, R. Groult, E. Leguy)
Sensor design : Métalu.net (Antoine Rousseau, Jean-Marc Delannoy)
Piano mechanization and coordination of scenography: FabLab des Usines (Cyril Chessé, Simon Macias)
Set design : Sophie Laroche
Steelwork: Strukenfer (Olivier Monteil)
A Bipolar production, co-financed by Pictanovo, within the framework of the Expériences Interactives Fund. With the support of the Conseil Régional Nord-Pas de Calais, the European Metropolis of Lille, the CCI Grand-Hainaut, the Centre National du Cinéma et de l'image animée. Co-productions: Rurart Centre d'art contemporain, Le Lieu Multiple Poitiers and Les Usines, as part of the Résidences d'artistes en entreprises of the Région Nouvelle-Aquitaine. This project was selected by the patronage commission of the Fondation Nationale des Arts Graphiques et Plastiques, which gave it its support. With the participation of the DICRéAM (Ministère de la Culture et de la Communication / CNC), the support of the City of Lille (programme Ville d'arts du futur) and the help of the Maison Folie Beaulieu - Ville de Lomme. Computer research and development by Fuzzy Frequency (Guillaume Libersat), in collaboration with the CNRS and the Algomus team (CRIStAL / MIS / SCV).