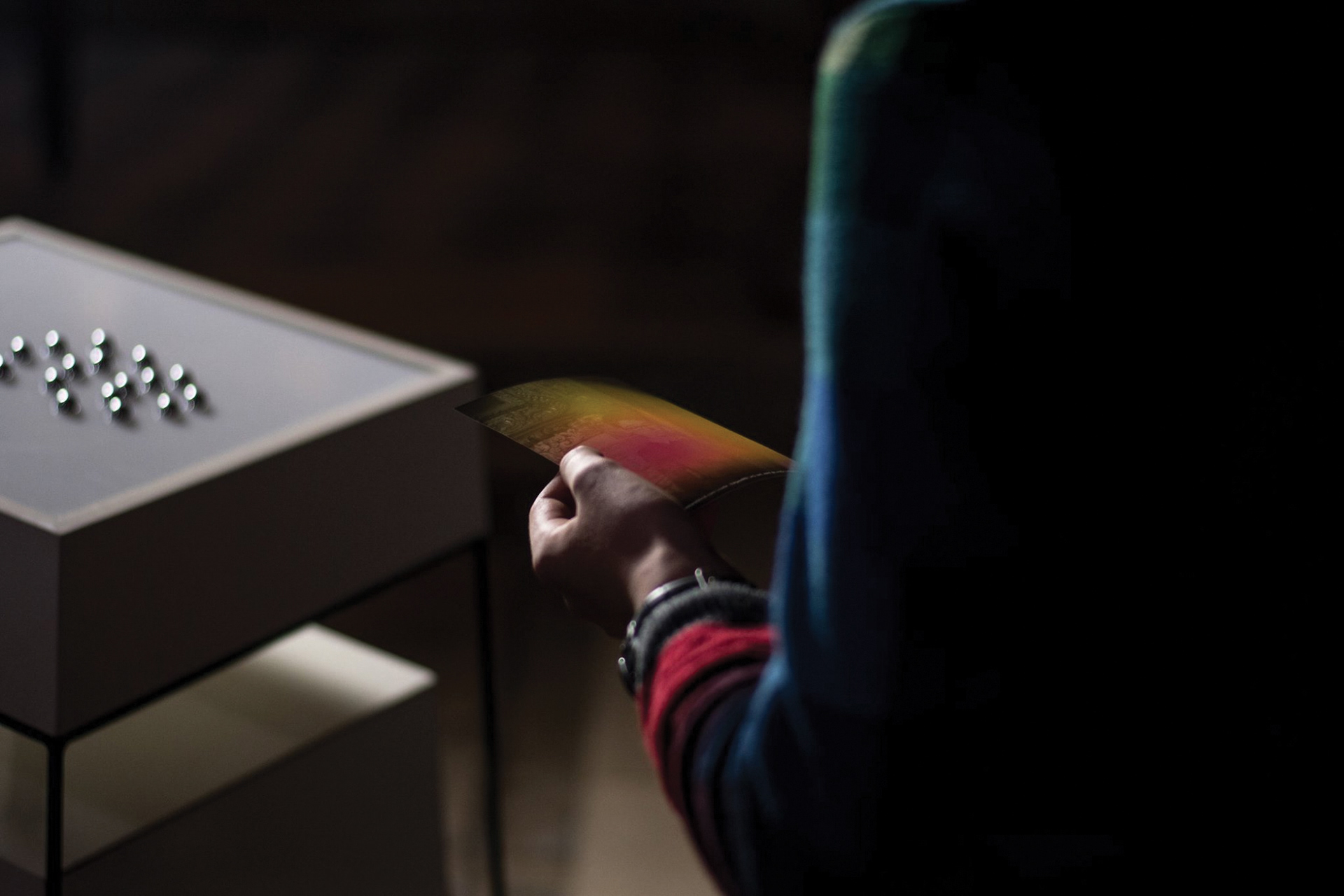 INTERACTIVE INSTALLATION FOR AURA AND PLAYER PIANO
600 x 450 x 200 cm
In a sleek device, a mechanical piano plays the most intimate score: that of the spectator. Conductance, skin temperature, hand weight, heartbeat... As We Are Blind interprets these physiological data in real time and transforms them into a unique musical and photographic production.
The visitor places a hand on a sensor measuring their electrodermal activity, which enables the sensor to draw up the visitor's "emotional cartography". The values collected, specific to each individual, are first converted into an image revealing their electromagnetic field. These data are analyzed by a computer program that transcodes them into a musical score, which is then played on the piano. The visitor then sees the keys of the keyboard being activated by themselves, as if a ghost pianist were playing a melody matching their state of mind. At the bottom of their printed aura portrait, a private hyperlink allows the visitor to download his composition online.
As We Are Blind aims to establish an intimate and privileged relationship between human beings and technology, in order to make people aware of the quality of their own presence in the artwork. Here, it is not the music that generates emotions: it is the emotional state of the person that is at the origin of the musical corpus.
CONCEPTION AND EXECUTION
Véronique Béland
COMPUTER DEVELOPMENT AND TECHNICAL SUPPORT
Guillaume Libersat
RESEARCH IN COMPUTER MUSIC
Algomus
SENSOR DESIGN
Métalu.net
PIANO MECHANIZATION AND COORDINATION OF SCENOGRAPHY
FabLab Les Usines
BLUEPRINTS
Sophie Laroche
IRONWORK
Strukenfer
A Bipolar production, co-financed by Pictanovo within the framework of the Interactive Experiences Fund. With the support of the Conseil Régional Nord-Pas de Calais, the European Metropolis of Lille, the CCI Grand-Hainaut, the Centre national du cinéma et de l'image animée. Co-produced by: Rurart Centre d'art contemporain, Le Lieu Multiple / Espace Mendès-France Poitiers and Les Usines, as part of the Résidences d'artistes en entreprises of the Région Aquitaine Limousin Poitou- Charentes. This project was selected by the patronage commission of the Fondation Nationale des Arts Graphiques et Plastiques, which gave it its support. With the participation of the DICRéAM (Ministère de la Culture et de la Communication / CNC), the support of the City of Lille (Ville d'arts du futur) and the help of the Maison Folie Beaulieu—City of Lomme. Computer research and development by Fuzzy Frequency (Guillaume Libersat), in collaboration with the CNRS and the Algomus team (CRIStAL / MIS / SCV).
(アズ・ウィアー・ブラインド)
オーラとプレーヤーピアノのためのインタラクティブ・インスタレーション
600 x 450 x 200 cm
洗練された装置の中で、機械仕掛けのピアノが最も親密なスコア、つまり観客のスコアを奏でる。コンダクタンス、皮膚温度、手の重さ、心拍...。As We Are Blindは、これらの生理学的データをリアルタイムで解釈し、ユニークな音楽と写真の作品に変換します。
観客は、皮膚電気活動を測定するセンサーに手をかざすと、センサーが観客の「感情の地図」を描くことができます。このセンサーによって、来場者の「感情の地図」が描かれるのです。そのデータをコンピューターが解析し、楽譜に変換してピアノで演奏します。すると、まるで幽霊ピアニストが自分の心の状態に合ったメロディーを奏でているかのように、自分自身で鍵盤が動いているのが見える。プリントされたオーラのポートレートの下部には、自分の作曲した曲をオンラインでダウンロードできるプライベートハイパーリンクが表示されています。
As We Are Blindは、人間とテクノロジーの親密で特権的な関係を構築することで、アートワークの中に自分自身が存在していることの良さを認識してもらうことを目的としています。ここでは、感情を生み出すのは音楽ではなく、音楽コーパスの原点にある人の感情の状態なのです。