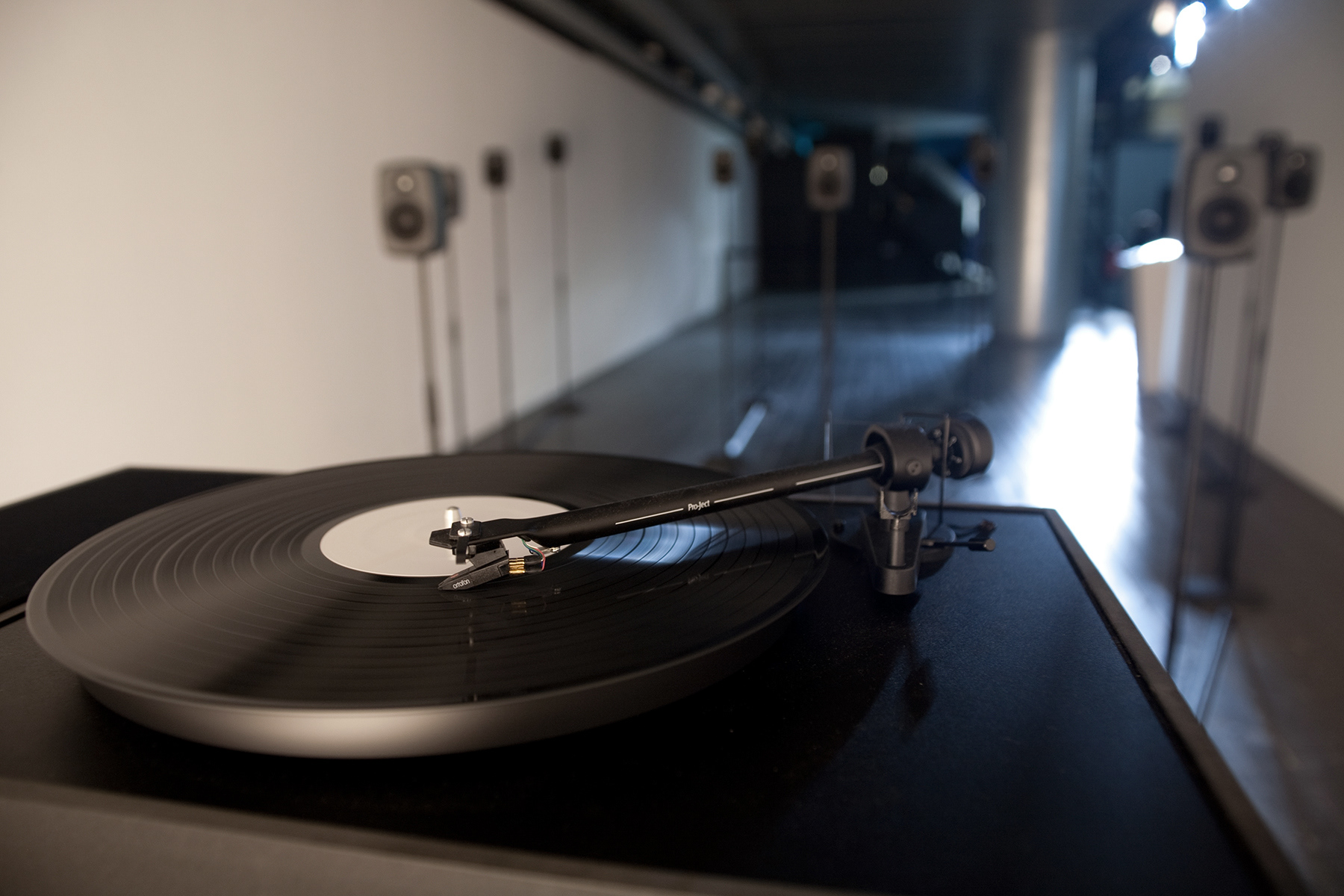 LA CIRCONFÉRENCE DU CERCLE VICIEUX [2011]

THE CIRCUMFERENCE OF CIRCULAR REASONING
Sound installation for 14 speakers and a turntable 
Continuous sound (22 min 50 sec in loop, without distinction of beginning or end)
9 m X 5 m 
A choir of counters reciting the Pi number's decimals is played over 13 speakers, through which the spectators wander. The speakers, each embodying an individual singer, are placed in front of a turntable playing a poetic reading related to the choir's mathematical score. The turntable is connected to a detection system that modifies the spatialization of the sound (location of the singers in the set of speakers) if the tonearm is moved.
CONCEPTION AND REALISATION
Véronique Béland


Composition
Recording, mixing and programming
Véronique Béland, Sébastien Cabour and Pierre George


Performance
COELI ET TERRA, a chamber choir under the direction of Maurice Bourbon (Association La Chapelle des Flandres, with the support of the city of Roubaix and the Conseil Régional Nord-Pas-de-Calais).
Produced by Le Fresnoy, Studio national des arts contemporains.
14台のスピーカーとターンテーブルのためのサウンド・インスタレーション 
連続音(22分50秒のループ、始まりと終わりの区別なし)
9 m X 5 m 
円周率の小数点を唱えるカウンターの合唱が13台のスピーカーから流れ、その中を観客がさまよう。各スピーカーは個々の歌手を模しており、ターンテーブルの前に置かれ、合唱団の数学的スコアに関連した詩的な朗読を再生する。ターンテーブルには検出システムが接続されており、トーンアームが動かされると音の空間化(スピーカーの集合の中での歌手の位置)が変更される。