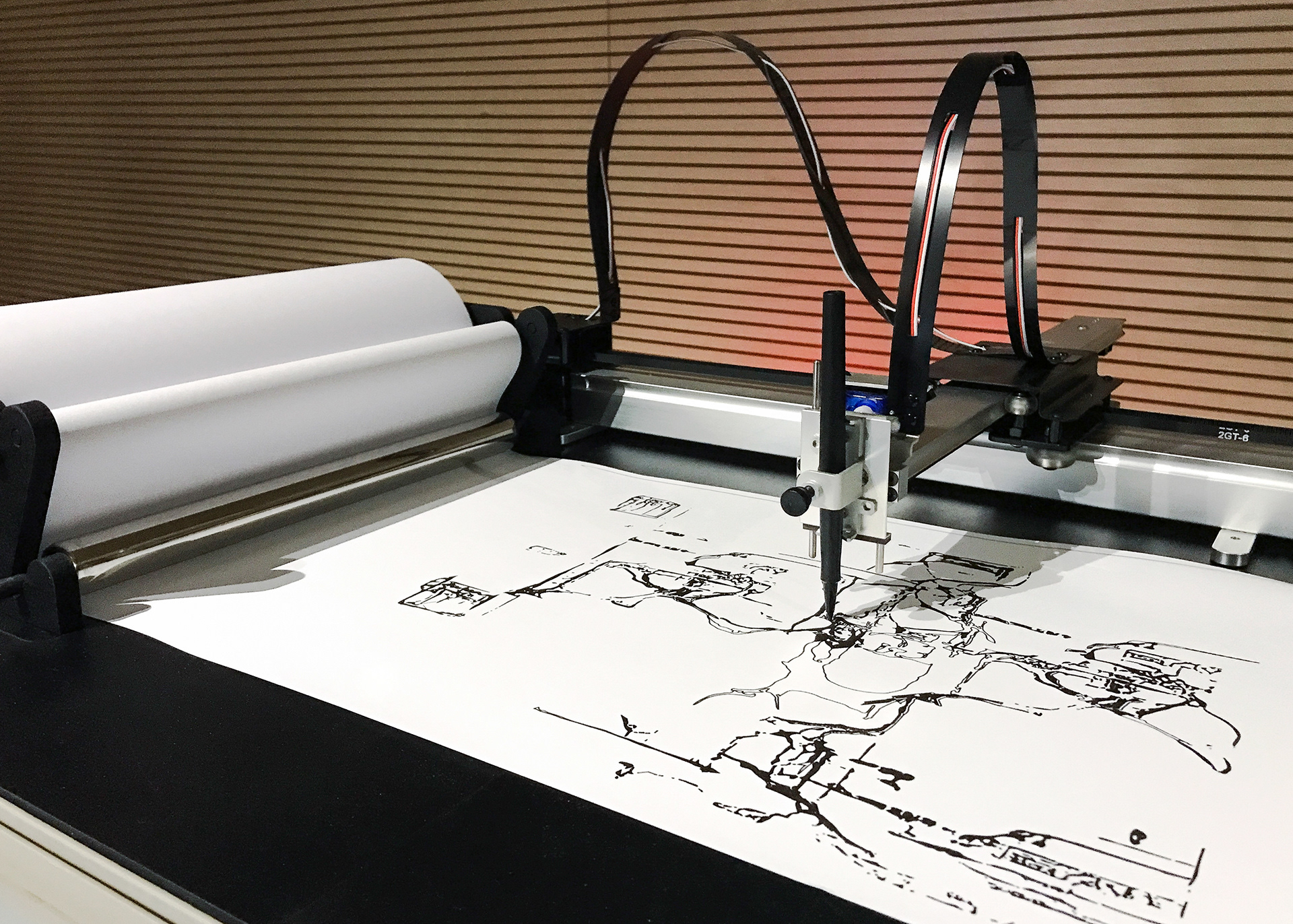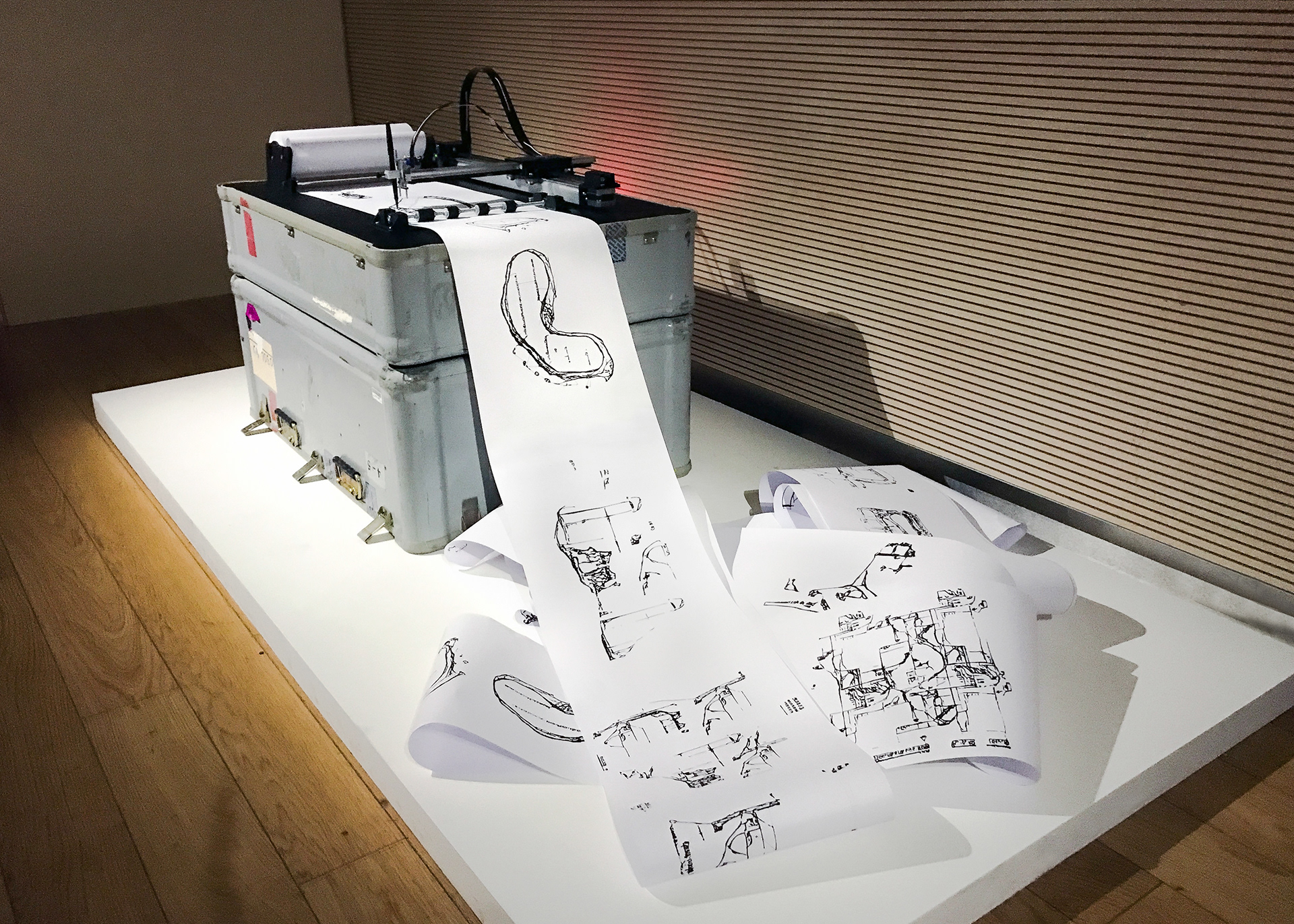 EN SORTIE, LE SCIENTIFIQUE DE L'ESPACE : POINT SUR LA CONCEPTION  [2021-2023]
On the Way Out, the Space Scientist: Update on the Conception Process
GENERATIVE INSTALLATION, 2023
90 x 60 x 50 cm
FIRST SERIES OF IMAGES GENERATED BY THE NEURAL NETWORK, 2022
20 risographic prints on Pure Cotton Archive 250 g paper, size 330 x 430 mm (framed) 
Collection of the CNES Space Observatory, Musée des Abattoirs - FRAC Occitanie-Toulouse
This research-creation laboratory is interested in the anatomy of spacecraft. From a corpus of textual and graphic archives devoted to rockets, robots, probes and other vehicles sent into space since the 1960s by the Centre national d'études spatiales (CNES), the aim was to use the tools of artificial intelligence and deep learning to design an autonomous machine capable of drawing its own plans and imagining a new genealogy of spacecraft.
Through this creation protocol, which extends the space archive into a prospective dimension, the idea was to develop a quasi-objectivist approach by seeking to represent the non-human machines as closely as possible to what they really are. In contrast to the affects and anthropomorphic characters that are often associated with them, this work sought to take another look at these forms of life, by allying itself directly with one of them - the artificial neural network - to make a work.
The generative installation is composed of a robotic arm capable of reproducing in real time, with a felt-tip pen on paper, the patterns designed by the neural network. Implanted in a flight case that once housed a now obsolete CNES satellite, the system includes a paper roll that automatically scrolls as soon as a drawing is completed, so that the machine is entirely autonomous.

CONCEPTION AND EXECUTION
Véronique Béland
COMPUTER PROGRAMMING—DEEP LEARNING
Léo Dubus
MECHATRONIC DESIGN
Quentin Deyna
This project was created in partnership with the CNES Space Observatory, as part of the Avant-Poste program. It has also received the support of the Ministry of Culture, Direction régionale des affaires culturelles Nouvelle-Aquitaine, Aide individuelle à la création année 2022.
ジェネレイティブ・インスタレーション、2023年
90×60×50センチ
ニューラルネットワークによって生成された第1の一連の画像、2022年
ピュアコットンアーカイブ250gペーパーにリゾグラフプリント20枚、サイズ330×430mm(額装済み) 
CNES宇宙天文台、Musée des Abattoirs - FRAC Occitanie-Toulouseのコレクション。
この研究・創造ラボは、宇宙船の解剖学に興味を持っています。国立空間研究センター(CNES)が1960年代以降に宇宙に送り出したロケット、ロボット、探査機などのテキストとグラフィックのアーカイブから、人工知能と深層学習のツールを使って、自ら計画を描き、宇宙船の新しい系譜を想像することができる自律型マシンを設計することを目的としました。
このジェネレイティブ・インスタレーションは、1960年代以降に宇宙に送られたロケット、ロボット、探査機などの数千の設計図を入力したニューラルネットワークが考えたドローイングを、紙にフェルトペンでリアルタイムに再現するロボットアームで構成されています。CNESの旧型衛星を収納したフライトケースに組み込まれたこのシステムは、図面が完成すると自動的にスクロールするロール紙を備えており、完全に自律的に宇宙船の新しい系譜を想像することができる。